Massage Therapies
At Gallipolis Chiropractic and Wellness Center, we take pride in providing an entire range of wellness services such as massage therapy! Please read the descriptions below to learn which massage type is best for you! Though similar in technique, each massage type fulfills a particular role in health, repair, and maintenance.
If you are pregnant, we can work with you even if you are in your first trimester!**
What to expect at your appointment?

Your massage therapist will ask about your condition and your goals for the session. You will be asked to lay on either your back or your stomach. The area being massaged will be exposed. You will only need to undress the areas being treated, and we will work with you to address your desired level of comfort.
Warm-up techniques will be used before the actual massage.
**Some exceptions will apply such as high-risk patients or those with high blood pressure.

---
Swedish Massage
Is the most widely known type of massage therapy, primarily using palms, fingers, and hands. This is a great massage technique for those with a lower pain threshold. It can be used for both general healing, and maintenance of healthy individuals. It relieves pain and stress from every day activities such as sitting at a computer, long periods of standing, or working in uncomfortable positions.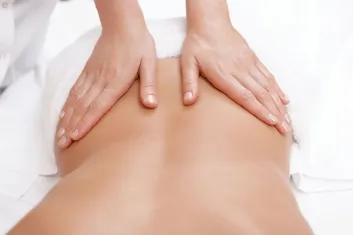 It energizes the body, creates relaxation, relieves stress and pain, releases tight muscles, promotes better blood circulation, improves heart health, treats depression, anxiety, back pain, headaches, boosts immunity, nerve stimulation, tension relief (such as breaking up adhesions), lymph node drainage, and improves flexibility.
A normal reaction to the Swedish Massage is the production of pain-relieving endorphins such as dopamine, serotonin, and oxytocin. It also reduces the stress-producing hormone cortisol.
The techniques used during a Swedish Massage are: gentle circular movements (effleurage), percussion, rhythmic kneading (petrissage), vibration, rhythmic tapping (tapotement), friction, and rolling. Massage oil or lotion is used to reduce friction.

This is a great massage if you are looking to unwind, relieve minor pain, and rejuvenate.
---
Deep Tissue
Is a more rigorous form of massage used to treat musculoskeletal issues such as muscle pain, strains, stiffness, and sports injuries. Firm, intense, prolonged strokes are used to reach deep muscles and connective tissues. Research has found that Deep Tissue massage mimics noninflammatory drugs such as ibuprofen.
Deep Tissue massage addresses specific conditions such as fibromyalgia, plantar fasciitis, high blood pressure, sciatica, and tennis elbow. It breaks up adhesions (scar tissues) that bind joints and prevent regrowth. It also improves faster healing by increasing blood flow.
It uses the same array of techniques found in Swedish massage, however more pressure is applied for a deeper affect. Elbows and forearms may be used.
Side effects are common after a Deep Massage. Some soreness is to be expected. Home remedies such as heating pads or cold packs may be used to relieve soreness.
If you have any conditions such as clotting disorders, you take medicine for blood clotting, bleeding disorders, pregnancy, osteoporosis, have cancer, or are being treated for cancer you will want to discuss with your doctor whether deep tissue massage is right for you.
For your convenience, schedule an exam with our in-house chiropractors. These physicians will be able to determine the best care plan for you!!